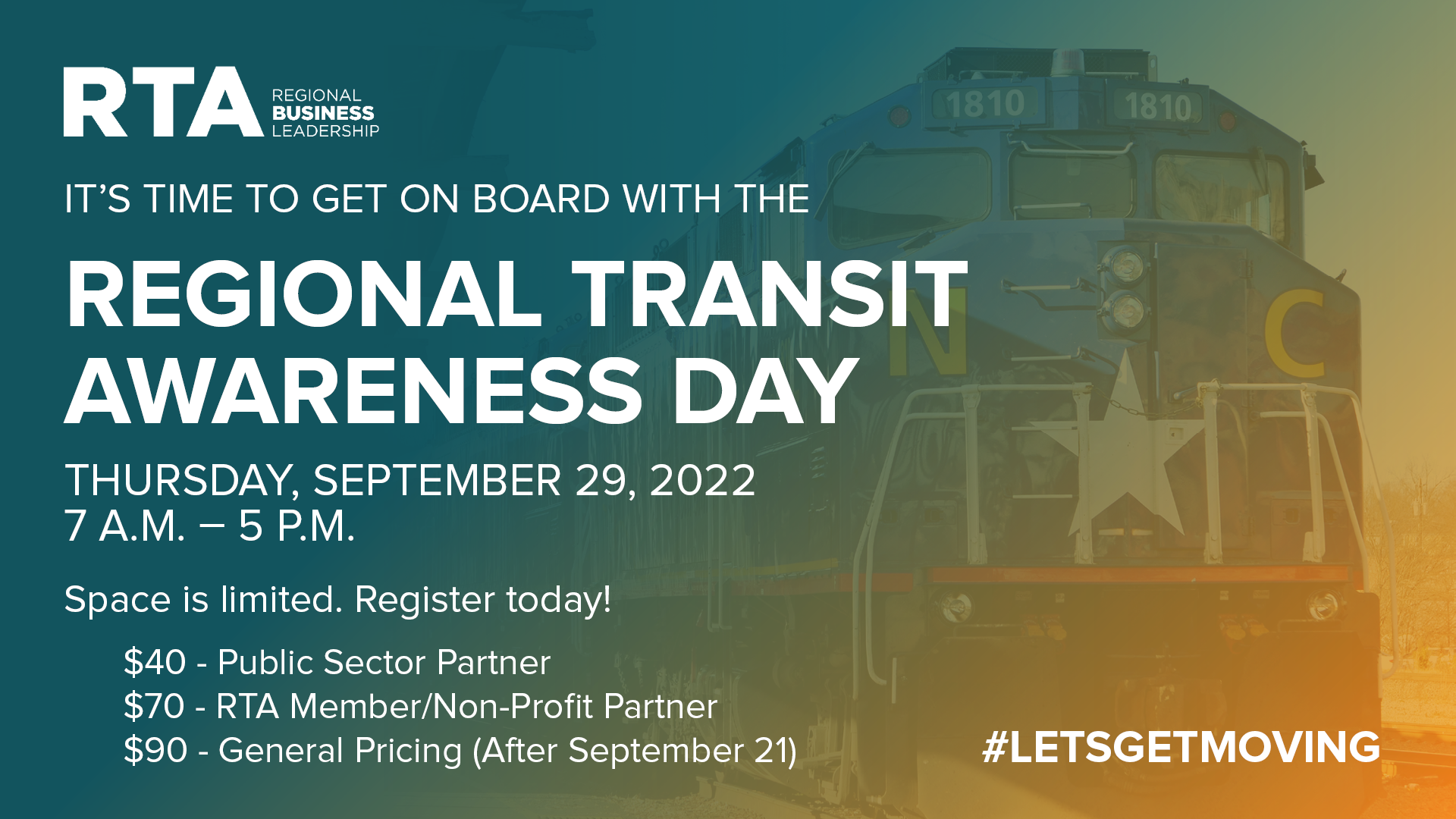 2022 RTA Regional Transit Awareness Day
Thursday, September 29, 2022
7 a.m. – 5 p.m.
Price:
$40 – Public sector partner
$70 – RTA member / non-profit partner
$90 – General pricing (after September 21)
Note: Limit one registration per private sector organization during early registration (approx. September 22).
Note: Space is limited.

RTA Regional Transit Awareness Day was an opportunity for the regional business community and area elected and transportation leaders to focus on transit options and opportunities.
This event provided a level set / awareness of the region's current multimodal offerings and plans through a series of leadership briefings and transit field visits, along with an understanding about the opportunities that purposeful additional investment can afford our region.
RTA thanks each of our region's transit partners for their assistance in the planning and execution of the event.
This event has already occured and registration is closed. Contact Jacob Rigg, RTA membership operations coordinator, for more information.
SUMMARY OF WORKING AGENDA
RTA Regional Transit Awareness Day:
Thursday, September 29, 2022 – draft schedule overview
 (all times approximate; agenda subject to change)

7a – 7:15a – Attendee arrival, at RTP
Participants will meet at 800 Park Offices Drive, RTP
Attendees requested to arrive by 7:15 am
Attendee registration occurs here; includes distribution of nametags, Whisper units
Tripper buses will shuttle attendees to GoTriangle Regional Transit Center (RTC)
Event buses provided by Chapel Hill Transit and GoDurham/City of Durham
  7:30a – Welcome breakfast and Leadership briefing 1:  Overview of day, Cary focus, RTC, at GoTriangle RTC
Breakfast provided by GoCary/Town of Cary
  8:30a – Transit field visit 1:  RTC to Raleigh via regional/local bus
  9:15a – Leadership briefing 2:  Raleigh, at Union Station
Refreshments provided by GoRaleigh/City of Raleigh
10:00a – Transit field visit 2:  Raleigh to Durham via passenger rail
Dedicated passenger coaches provided by NCDOT
10:30a – Leadership briefing 3:  Durham, at Durham Station
11:30a – Transit field visit 3:  Durham to Chapel Hill and Carrboro via regional/local bus
12:15p – Lunch and Leadership briefing 4:  Chapel Hill and Carrboro, at Hilton Carrboro
  1:45p – Transit field visit 4:  Carrboro and Chapel Hill to RTP via regional/local bus
 2:30p – Closing reception/discussion at RTP, 800 Park Offices Drive
Closing reception hosted by the Research Triangle Foundation of North Carolina
by 4:30p – event scheduled to end

Presentation decks
Media coverage (WRAL-NBC 5, WNCN-CBS 17)
ABOUT THE RTA BUSINESS COALITION
The Regional Transportation Alliance is the voice of the regional business community on transportation in North Carolina's Research Triangle region, and a regional program of the Raleigh Chamber.
Founded in 2002, RTA is a metropolitan, private-public partnership that drives consensus and action. More than 100 leading companies work in concert through the RTA alongside more than 25 member chambers of commerce across 13 counties in central and eastern North Carolina and a host of number of regional partners.
RTA delivers business leadership to get our region moving faster. Learn more at letsgetmoving.org.
RTA
Regional Leadership Team
RTA Gold Members
Clark Nexsen
Duke Energy
Google
Greater Durham Chamber of Commerce
HDR
IBM Corporation
Kane Realty
Kimley-Horn
McAdams
MetLife
Pinnacle Financial Partners
Raleigh Chamber
Raleigh-Durham Airport Authority
Red Hat, Inc.
Research Triangle Foundation of North Carolina
Smith Anderson
Summit Design and Engineering Services, PLLC
United Therapeutics
VHB
Wake County Economic Development  (EDGE6)
Wetherill Engineering, Inc
WSP
RTA Silver Members
AECOM
Amgen
AT&T North Carolina
Bolton & Menk
Capitol Broadcasting Co., Inc.
Chatham Park / Preston Development
Citrix
Coastal Federal Credit Union
Credit Suisse
Dominion Energy
Duke University
Fidelity Investments
First Citizens Bank
First National Bank
Fox Rothschild LLP
FUJIFILM Diosynth Biotechnologies
GlaxoSmithKline
GoTriangle
Greater Raleigh Convention and Visitors Bureau
KDC
Lenovo
Martin Marietta
Monteith Construction
ms consultants, inc.
North Carolina Railroad Company
North Carolina State University
Novo Nordisk
Ramey Kemp & Associates, Inc.
RATIO
RTI International
SAS Institute Inc.
SEPI, Inc.
Stewart
STV Inc.
The Sunrock Group
The Umstead Hotel and Spa
Truist
UNC Chapel Hill
UNC Health
Wake Technical Community College
RTA Senior Regional Partners
Capital Area MPO
Durham-Chapel Hill-Carrboro MPO
City of Durham
GoRaleigh / City of Raleigh
GoTriangle
Raleigh-Durham Airport Authority
Town of Cary
Town of Morrisville
Triangle J Council of Governments
RTA Bronze members
Accuro
Alfred Benesch & Company
Atkins
Avison Young
Biogen
Clancy & Theys Construction Company
Dewberry
Gregory Poole Equipment Company
HH Architecture
Highwoods Properties
McKim & Creed
PNC
Strada Architecture
Trinity Capital Partners
WakeMed Health & Hospitals
York Properties, Inc./McDonald-York Building Company