Highway maintenance funding challenges, 2020 B.C.
May 14, 2020
Posted by:

Joe Milazzo II

Category:

Blog
If we were to look at the State's highway funding situation in say February 2020 B.C. (before coronavirus), we would have found that NCDOT was already facing a devastating financial challenge.
With a series of storms occurring over the past few years amidst declining revenue for maintenance during that time, the Department has been playing catch-up for a while.
To that point: there are currently 350 storm repair sites that cannot be completed because NCDOT's maintenance budget has completely exhausted all financial reserves, and then some. In fact, NCDOT has a maintenance budget deficit approaching $700m, and portions of 75 roads remain closed across the state.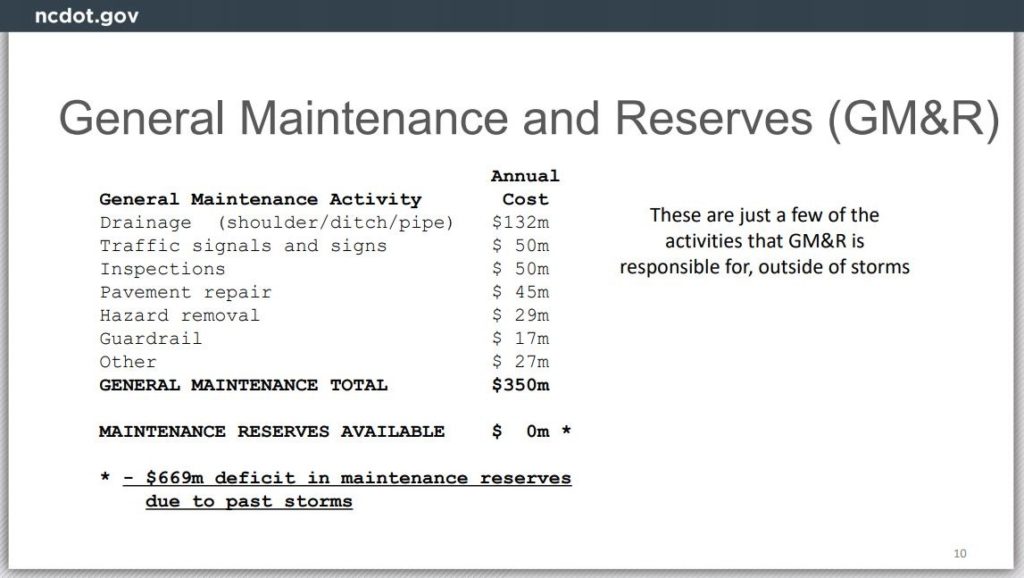 Coupling that with additional financial pressure from the recent  "Map Act" decision, which has already consumed more than $500m in funding, and NCDOT has had to delay a host of projects important to this region, including the northern sections of the conversion of US 1 to a freeway north of 540.
And remember — all of this was the situation during 2020 B.C. — before coronavirus.
Then the pandemic hit, and the financial bottom fell out, on transportation funding, and frankly the entire transportation industry.
The coronavirus situation and the associated economic downturn has resulted in lower travel (and thus lower fuel tax revenue), fewer vehicle sales (and therefore fewer highway use taxes), and closed DMV offices or delayed payments (and thus lower or deferrred vehicle fee revenue).
The result has been a perfect storm of financial impacts–to the tune of well over $1 billion–and the implications are obvious and severe for mobility.
Last week, RTA held a highway funding relief task force meeting with NCDOT COO Bobby Lewis and NCDOT Division 5 Engineer Joey Hopkins to gain a better understanding of the immediacy of the funding challenge. (NCDOT's presentation is here).
While the coronavirus impacts are devastating, we recognize that the coronavirus has impacted virtually every state department and industry. However…
The urgency to address maintenance funding is abundantly clear–particularly as hurricane season approaches. 
In the short run, maintenance funding is the core issue. Our Leadership Team will discuss next week; we have been exploring a variety of options for immediate relief, including temporary surcharges and additional federal funding.
RTA has long advocated for an access-based approach to highway funding for several years, given the increasing obsolescence and unfairness of the motor fuel tax due to the difference in fuel efficiency across the vehicle fleet, as well as the volatility in fuel tax revenue.
To the latter point:  if there were an access-based approach in place today, NCDOT would not have experienced the severity of the coronavirus-induced revenue shortfall beginning in March 2020, since a significant reduction in travel would not have resulted in substantially decreased funding for transportation.
Identifying a solution path for maintaining the safety and integrity of our highway system will be essential for commerce as North Carolina reopens for business.
Let's get moving,
Joe
Joe Milazzo II, PE
Executive Director
Regional Transportation Alliance
RTA is the voice of the regional business community on transportation