Constructions, Connectors and Freeways, Oh My!
May 19, 2022
Posted by:

Jacob Rigg

Category:

Blog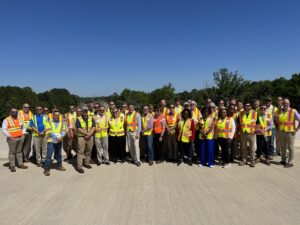 The wait is almost over. After almost seven years of construction, the I-885 "East End Connector" in Durham is nearing completion. This vital multimodal freeway project — almost six decades in the making, with NCDOT project number 0071 — is slated to open by the end of next month, on June 30, 2022.
RTA, in concert with the Greater Durham Chamber of Commerce and NCDOT, held our first in-person RTA General Membership meeting of 2022 on the almost two mile connector for more than 40 RTA members and partners.
The project was first proposed in 1959 and it took 56 years before the project was able to break ground with construction beginning in 2015. The I-885 Connector — which RTA has referred to as the "Triangle Connector" for more than a decade — will provide a direct linkage between Downtown Durham and the Durham Freeway (N.C. 147) and Miami Boulevard (U.S. 70) and increase accessibility to both I-85 and I-40.
This much needed improvement will allow for the flow and exchange of goods to be easier between Durham, Research Triangle Park, and Wake County and reduce traffic through downtown Durham. It will also lessen the commuting burdens for people driving between Durham and Research Triangle Park, while increasing workforce connections from areas including northern Durham, Granville, Person, and Vance counties.
While RDU's primary runway continues to be the most important two miles of pavement in the Triangle, the new mainline I-885 might be close, given the amount of new free flow accessibility it will create.
For additional information you can visit NCDOT website.
Let's get moving,
Joe Milazzo II, PE
RTA Executive Director
RTA is the voice of the regional business community on transportation
www.letsgetmoving.org