What to do about RDU funding
July 15, 2021
Posted by:

Joe Milazzo II

Category:

Blog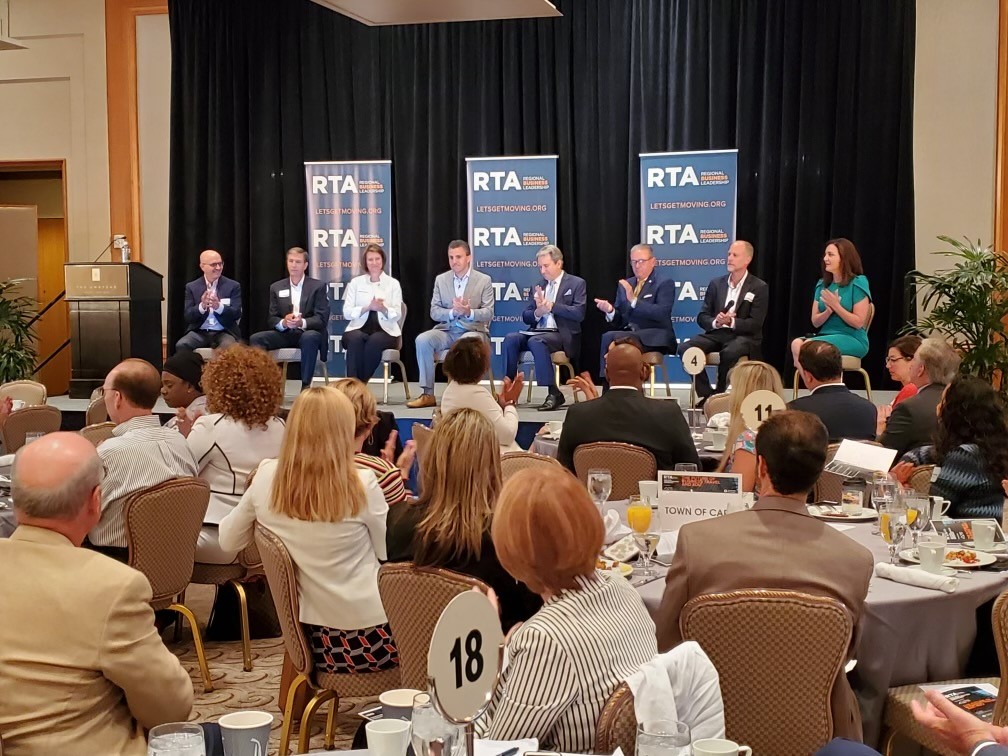 Thank you to the more than 150 guests who attended Friday's RTA 2021 Transportation Breakfast presented by the Research Triangle Foundation of NC on July 9.
The centerpiece of the event from an RTA advocacy standpoint was a panel discussion of several RTA RDU AID task force members concerning the findings of the just-released RTA report on capital infrastructure funding options.
The report covered the current financial landscape of the airport, and came to the following overall recommendation:
To resolve the looming future capital funding shortfall at RDU, this region must take true ownership of RDU's financial future, by quickly raising or activating the airport user fees it can, modernizing and increasing local funding, and elevating and aligning the RDU 2040 campus vision with revenue reality.
The task force identified a number of key findings. Some highlights include:
RDU's passenger numbers may return to record-setting levels by 2024
Passenger growth will not create sufficient funding for needed future infrastructure at RDU
Local funding contributions for the airport haven't changed since 1957
RDU has identified a $500m revenue shortfall by 2030 – even if $500m in additional debt issued
By 2040, RDU anticipates an additional $1b capital funding gap – for a total shortfall of $2 billion
In addition to the overall recommendation listed above, the task force developed a series of funding and policy recommendations at the federal, state, airport, and local/regional levels. Some examples are:
Lobby for significant discretionary federal funds for main runway (ideally $150m or more)
Lobby for authority to raise per-ticket passenger facility charge (PFC) by $1 ($6m /yr.), indexing
Applaud state legislature for ongoing, strong bipartisan financial support of NC airports
Raise parking fees by $6/day ($10m /yr.); implement $2/day airport "access fee" ($10m /yr.)
Modernize, increase municipal contributions from 4 airport owners to $120k or more per year
Monetize airport lands – with community input to increase potential revenue controlled by RDU
None of these recommendations by themselves will resolve the funding gap. All or many of them in concert would make a significant positive "dent" in resolving the gap.
Our initial near-term priority will be helping RDU secure federal funding, although there will be other priorities that we simultaneously pursue.
While the regional business community believes that each of the recommendations in this report are reasonable to consider, our primary focus is not on any particular revenue option. Rather, our goal is to activate an effective regional conversation on the need for finding – and funding – viable solution paths.
You can read more about the conversation at the RTA Breakfast in these recent news articles:
The future of RDU is essential to our community's success. The regional business community is committed to giving that future the focus it deserves.
Let's get moving,
Joe Milazzo II, PE
Executive Director, Regional Transportation Alliance
RTA is the voice of the regional business community on transportation in the Research Triangle area.
RTA represents more than 100 leading businesses and 25 member chambers of commerce in central and eastern North Carolina.